Amin Rashid Hassan Al-Zubydi
Born July 1, 1938
Education - 1945-1957 primary, intermediate, secondary school; 1957-1959 BSC in military science at the Iraqi Military College; 1971-1975 BSC in political science at Al Mustansirea University; 1977 English Language Institute
Experience - form 1959 to 1987 officer in the army with shifting positions such as light aid detachment commander, field work shop commander, medium workshop commander, base work shop commander, Air Force equipment workshop commander, divisional electrical and mechanical commander, corps electrical and mechanical commander and Inspector for all army units. Then administrative assistant to the electrical and mechanical director of the Iraqi Army, technical assistant to the electrical and mechanical director of the Iraqi army, deputy of the electrical and mechanical director of the Iraqi Army
Courses and missions outside Iraq - 1962 United Kingdom, 1967 Czechoslovakia, 1968 Czechoslovakia, 1980 Jordan, Kuwait, Saudi Arabia, 1982 Jordan, Kuwait, Saudi Arabia,1986 Bulgaria.
1987 retired from the Iraqi Army and involved in commercial business since 1990.
Social activities - Member of the Iraqi Political Sciences Association, member of Baghdad Chamber of Commerce & Industry and member of the Iraqi Organization of Friendship, Peace & Solidarity and President of the Iraqi- Swedish Friendship Association.
Amin Al-Zubydi extended his care and friendship to TFF's team during its visits in 2002 and 2003 and joined TFF as an Associate in 2003.
Address

Baghdad, Hay Al Muthana/District No.712/Street No.3, House No. 42.

Phone

Satellite phone 0088 216 67223161
+641-7746322,7722830

Fax

+44

E-mail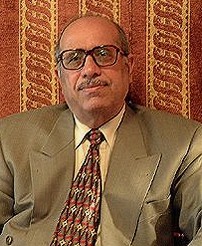 More about TFF